The Spirit of the Curé of Ars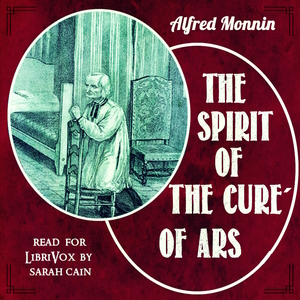 While not really connected to my work, I narrated this audiobook, which may be of interest to those who follow me, especially Catholics. It's a truly beautiful work from the mid-1800s. Here is a summary of the book:
St. Jean-Baptiste Marie Vianney (known in English as St. John Vianney), was a French priest that lived from 1786-1859. He would later become famous as the Curé of Ars. Despite notoriously little formal education, he inspired an untold number to convert to the Catholic Faith, through the way that he spoke both passionately and simply, and the way that he lived his life. This book presents some of his catechisms, sermons, exhortations, and thoughts. It offers some of the most passionate pleas to the faithful, allowing him to inspire another generation from beyond the grave.
You can listen to the entire book freely at LibriVox. They also provide links so that you can add it to your favorite podcast platform via RSS.